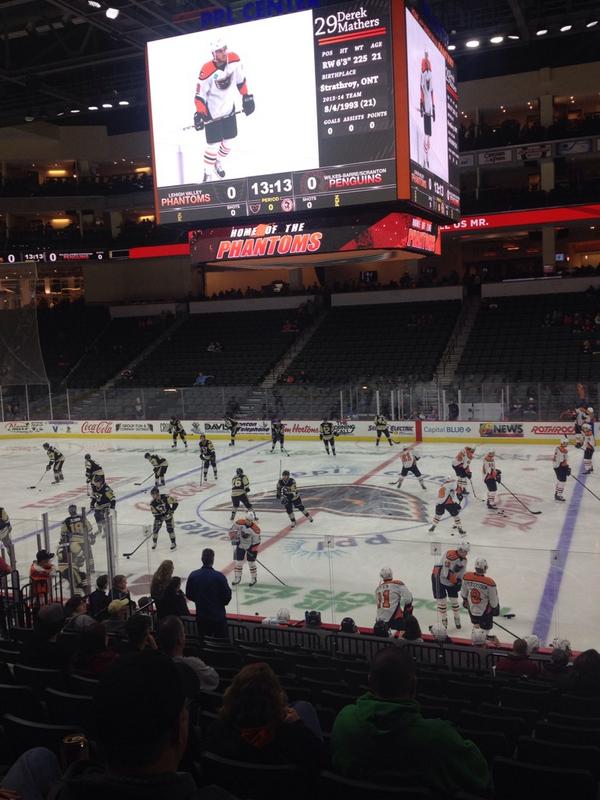 The Penguins and Phantoms met for the second time this season - the Pens' first visit to the PPL Center in Allentown, Pa.
In a goaltender's duel between Rob Zepp and Matt Murray, it was the Penguins rookie netminder coming away with two points following a 2-1 overtime win over the Phantoms at the PPL Center tonight.

Murray stopped 42 of the 43 shots that came his way, including all seven in overtime, to help keep the Penguins in the game and ultimately picking up the win after a power play goal from Jean-Sebastien Dea with 2:02 left in the extra session.

Zack Stortini tied the game at 1-1 in the 2nd period off a nice feed from Nick Cousins, and Rob Zepp stopped 30 of 32 shots in the loss for the Phantoms.

The big event to take away from tonight's game could be the awkward fall Derrick Pouliot had in the third period. Pouliot fell behind his own net and appeared to hit the back of his head/neck area off the boards. He was slow to get up and looked a little out of sorts. Pouliot headed to the bench and then exited to the locker room with trainer Kyle Moore on the very next stoppage in play. There was no update on his condition after the game from Penguins head coach John Hynes.

The Penguins also lost defenseman Reid McNeill late in the second period after he blocked a Scott Laughton slap shot that appeared to catch him in the hand. He threw his glove off and went down in a heap before being helped off the ice with the medical trainer. There was also no update on his condition post-game.

The Penguins head to Norfolk for two games this weekend, while the Phantoms close out the week with another home game Saturday night against the Hartford Wolfpack.