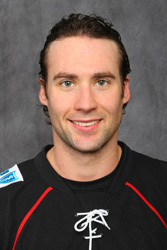 Photo courtesy of theahl.com
The Wilkes-Barre Scranton
Penguins have signed
last season's leading goal scorer in the AHL, Colin McDonald, to a one year two-way deal. McDonald scored a league high 42 goals last season with the Edmonton Oilers' AHL team, the Oklahoma City Barons.
Just as I got done saying the Penguins needed an AHL scoring threat, Ray Shero comes through big time, countering Hershey's addition of Ryan Potulny with a 40 goal scorer in McDonald. Great depth signing that WBS Penguins fans are very excited about.
McDonald, 26, is a bigger forward (6-3, 205 lbs.) that hasn't been known as a goal scorer until this past season. Drafted by Edmonton in the second round (51st overall) of the 2003 NHL Entry Draft, McDonald was a 10G, 10A player the past three seasons with the Springfield Falcons, never scoring more than 12 goals in a season before exploding for 42 in 2010-11 with Oklahoma City. He played on the Barons' top line with Alexandre Giroux and Brad Moran.
With the NHL Penguins re-signing Tyler Kennedy and adding Steve Sullivan, here's the list of NHL forwards on one-way deals:
NHL (12): Sidney Crosby, Evgeni Malkin, Jordan Staal, Chris Kunitz, James Neal, Tyler Kennedy, Matt Cooke, Steve Sullivan, Pascal Dupuis, Arron Asham, Craig Adams Mark Letestu
The Penguins still have $2.9 million in cap space (with Tangradi in AHL) and could target at least one more forward. Dustin Jeffrey, recovering from season ending knee surgery, would make the NHL total 13 forwards if/when the restricted free agent is signed. Here's a look at the rest of the forwards in the organization that could start the season in Wilkes-Barre:
AHL (13): Eric Tangradi, Colin McDonald, Nick Johnson, Joe Vitale, Ryan Craig, Keven Veilleux, Zach Sill, Nick Petersen, Ben Street, Bryan Lerg, Geoff Walker, Paul Thompson, Brian Gibbons
I don't think the Penguins are done with the forwards just yet. They could add another forward or two but I would like to think they would just be depth signings for the organization as a whole. Andrew Gordon is a name being thrown around a lot, and he is close with Sidney Crosby, but there aren't any reports of interest from either side at this point.
The positions of concern now shift to finding a reliable backup goaltender and making sure Brad Thiessen is signed. Thiessen received a qualifying offer before the June 27th deadline, but like Dustin Jeffrey he has yet to sign.
Another player the WBS Penguins could use is a veteran two-way defenseman to help mentor the young talent the Pens system has on the blue line. Corey Potter has moved on, signing with the Edmonton Oilers, and leaves the Penguins to search the free agent pool for a replacement. The Penguins other UFA defenseman, Steve Wagner and Andrew Hutchinson, have both signed overseas for 2011-12.
Stay tuned tomorrow for what should be another day with signings for the Penguins as well as their rivals. We'll keep you up to date on all of the relevant news regarding Pens signings and much more.