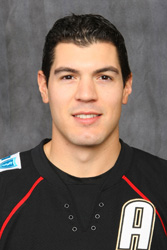 Not the Alexandre Picard from the Phoenix organization. Photo from theahl.com
The
Pittsburgh Penguins
have announced the signing of defenseman Alexandre Picard to a one-year, two-way deal worth $600,000 at the NHL level. Picard spent last season with the Montreal Canadiens, tallying three goals and five assists in 43 games, but missed the last seven games of the regular season and the Canadiens' seven playoff games with a foot injury.
Picard has spent the better part of the past four seasons as a 6th/7th defenseman in the NHL, being a part of the Canadiens, Hurricanes, Senators, Lightning and Flyers organizations in his career. Picard's last stint in the AHL came back in the 2007-08 season, where he posted eight goals and 30 assists in 53 games with the Phantoms.
This has the look and feel of another depth signing on the blue line to replace the losses of Steve Wagner, Corey Potter and Andrew Hutchinson. Could Picard be in the AHL to start the 2011-12 season or is there a trade on the horizon to unseat one of the seven NHL defenseman currently on one-way contracts in Pittsburgh? Time will tell, but I have a feeling the latter might ring true.