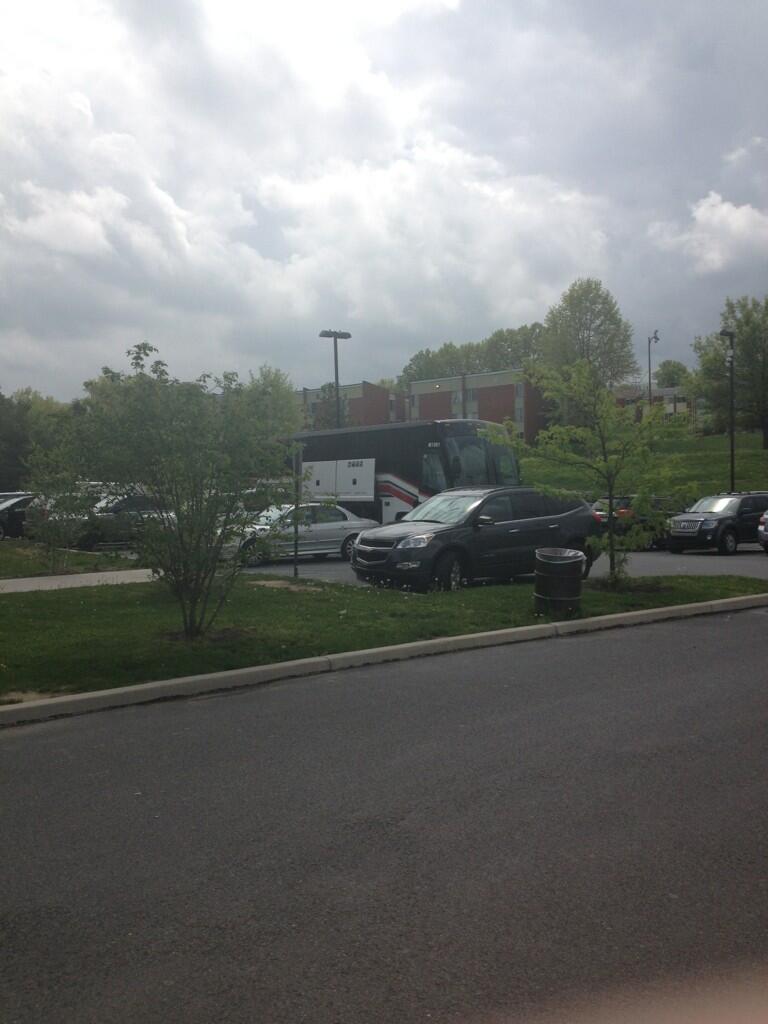 The Penguins held one last practice this morning at Coal Street, before getting the bus packed and boarded. They're in route to Providence, Rhode Island for the Eastern Conference Semifinals, which begin Friday night at the Dunkin Donuts Center. The 5th seeded Penguins take on the top seeded Providence Bruins in a best-of-seven series.
For all the latest in-game coverage and breaking news, follow
@H_P_Hockey
on Twitter. Highland Park Hockey is also on
Facebook
and
Instagram
!
Check back tonight for a closer look at the opponent for round two: The Providence Bruins.
After the jump, some thoughts from defenseman Alex Grant and forward Bobby Farnham on the challenge that awaits them, the 2nd round series with the Bruins and a look at the expected lineup for the Penguins.
Sounds From The Locker Room
Defenseman Alex Grant on challenge of facing the top seeded team in the 2nd round:
"They have been consistent all season long. They've been top of their divsion the entire year, so we know their a hard working team, consistent. We gotta be ready to go every single night."
On if Game One is a statement game for the Penguins:
"They've put a lot of emotion, especially into those last three games that they won, so we got to try to get on them early. The first game is always one of the most important ones."
On Eight days off versus playing a game last night:
"You can't look into it too much, but we're happy where we're at. We have been well rested, had some good practices this week. Like you said they just finished last night, so they're more emotionally drained than physically but that's just something we can't look too much into. We just have to worry about our own game."
Bobby Farnham on heading back to Providence:
"I'm really excited to head back there. Obviously, I played there for four years in College [at Brown University] and a little stint with Providence last year at the end of my college season. I'm really excited to get back there and be able to play close to home."
On if there's any added motivation facing the top team in the league:
"I think so. I think we had a couple of really good games against them this year. Really close and hard-fought games that going into this series is going to be a battle. A little added motivation that they're number one in the conference. To knock them off would be great."
Expected Lines For Game One?
Jeff Zatkoff practiced all week after missing last Thursday's series clinching win over Binghamton. I would expect he will get the start in net tomorrow night in Game One.
Here's my best guess on a possible Game One lineup:
Holzapfel - Smith - Kolarik
Nesbitt - Gibbons - Thompson
Collins - Peters - Payerl
Farnham - Sill - Megna
Reese - Dumoulin
Mormina - Samuelsson
McNeill - Grant
Don't forget to check back tonight for a closer look at the opponent for round two: The Providence Bruins. The AHL Penguins 2nd round series starts tomorrow, Friday night at 7:05 p.m. I'll be live from press row at Dunkin Donuts Center with all the latest this weekend up in Rhode Island.