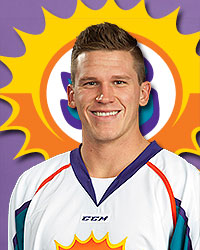 The newest AHL Pens forward: Pittsburgh-area native C.J. Severyn. Photo courtesy of the Orlando Solar Bears team page and the ECHL.
When the news broke about the Wilkes-Barre/Scranton Penguins signing forward C.J. Severyn to a professional tryout (PTO), many were quick to point out Severyn's hometown and his accolades with the team he has been on this season in the Orlando Solar Bears (ECHL).
The Beaver, Pa native grew up about 45 minutes outside of Pittsburgh near the PA/Ohio border. The former Pittsburgh Hornets and four-year Ohio State University center never put up big offensive numbers in college and played a bottom-six role to add secondary scoring. One thing noticed in his game is his ability to work down low in the corners.
It wasn't until his second season of pro hockey in the East Coast Hockey League (ECHL) that Severyn's offensive game attracted some attention, after a 22-goal season with the Solar Bears last year.
This isn't the first time Severyn has put on an AHL uniform, as he played with the Charlotte Checkers for six games in March last season after 44 points (22G-22A) in 65 ECHL games with the Solar Bears. It's also not the first time Severyn has worn a WBS Penguins uniform, as he appeared in a few preseason games for the Pens earlier this season during AHL training camp.
I caught up with a teammate of Severyn's to get an inside look at what the Penguins should expect when he hits the ice with the Pens this weekend in St. Johns. Current Orlando Solar Bears and former Wilkes-Barre/Scranton Penguins defenseman Cody Wild has been a teammate of Severyn's this season and the first thing he mentioned about Severyn was how good of a shot he has.
"He can bury," Wild said of Severyn, adding,"he's a big shooter and he goes to the gritty areas. A real hard worker that isn't afraid to mix up it with some physical play."
Where Severyn fits into the current battered AHL Penguins forward core remains to be seen, but a bottom-six role won't be anything new for him. If anything, it's his bread and butter.
The latest string of injuries and call ups in the Penguins organization has the AHL Penguins without seven forwards from their opening night roster. Forwards Chris Conner, Andrew Ebbett, Jayson Megna and Zach Sill are playing in the NHL with Pittsburgh, while Adam Payerl (3-4 months - upper body), Dominik Uher (1-2 weeks - upper body) and Nick Drazenovic (out this weekend) are all out with injuries.
The AHL Penguins brought in Severyn and Anton Zlobin to help round out the forward core before leaving for St. John's, Newfoundland, Canada for two games with the IceCaps this weekend. The team has 13 healthy forwards in addition to seven healthy defensemen.
Possible WBS Lineup:
Zolnierczyk - Gibbons - Kostopoulos
Kuhnhackl - Carman - Thompson
Farnham - Manderson - Leblond
Sylvester - Severyn - Rowney/Zlobin
Samuelsson - Dumoulin
Mikkelson - Harrington
D'Agostino - Merth/Ruopp
Stay tuned to Highland Park Hockey on
Twitter
this weekend for all the latest from the AHL Penguins road trip in Newfoundland.