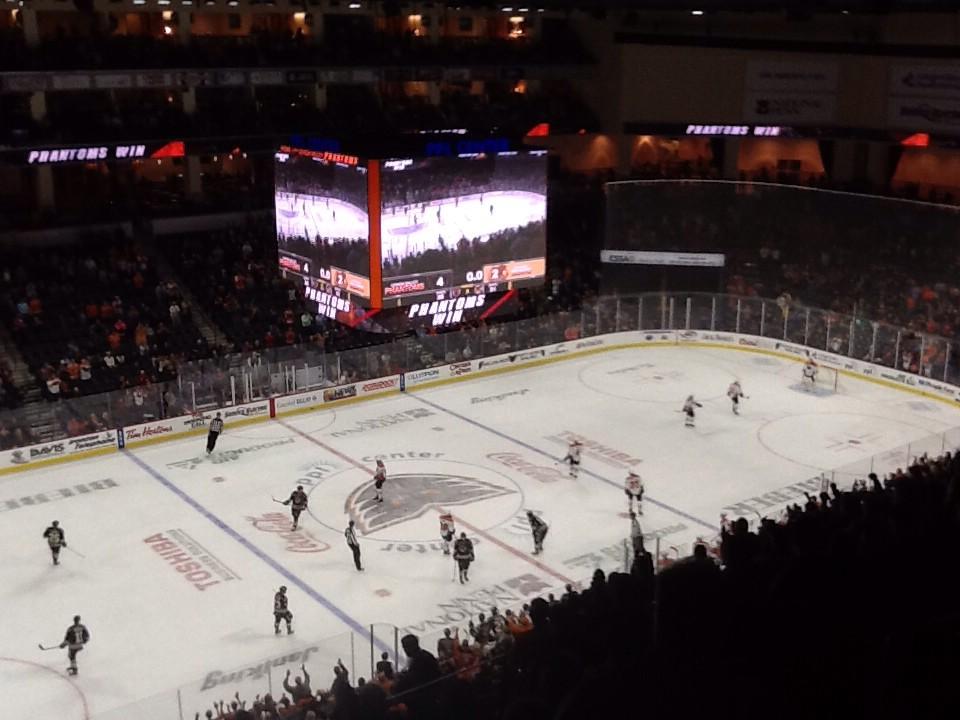 Three-goal rally late in the third period lifts Phantoms past Hershey.
The Lehigh Valley Phantoms (3-1-0-0) saved their best for last Friday night against rival Hershey, tallying three goals in a span of 1:53 in the final six minutes of the third period in route to a come-from-behind 4-2 victory to start off the weekend.
Rookie Taylor Leier tallied his first pro goal with 5:59 left to tie the game at 2-2, before Darroll Powe tallied his second of the night 57 seconds later to spring the Phantoms ahead 3-2 in a game they trailed most of the evening.
Rob Zepp (29 saves on 31 shots) gave the Phantoms a chance to win tonight with several big saves throughout the contest. At 3-0-0 on the season personally, it looks as though Zepp has made a nearly seamless transition to the North American game after spending several years playing in overseas in Germany.
Head coach Terry Murray announced that Zepp will get the start in net again tomorrow night as the Phantoms travel up to Binghamton for a 7:05 p.m. ET face-off with the Senators.
The Hershey Bears controlled play in the first period, having the puck in the Phantoms defensive zone early and often in the first 20 minutes. After a scuffle between Phantoms defenseman Mark Alt and Bears forward Tim Kennedy, it was the Bears getting on the board first in Allentown.
Phantoms goaltender Rob Zepp - making his third start of the season tonight - stopped the first chance by Kris Newbury, but the former Phantoms forward Kris Newbury picked up his own rebound and beat Zepp to the near post 13:27 into the game to put Hershey on top 1-0. Casey Wellman picked up the lone assist on Newbury's 4th of the season, setting up the play with a nice chip through traffic to get the puck to Newbury all alone in front of Zepp.
The Phantoms seemed to get to their game after that Bears goal, getting a power play and creating some chances, but credit Bears goaltender Philipp Grubauer with some nice stops to preserve his team's 1-0 lead after 20 minutes.
The Phantoms seemed to get to their game in the 2nd period, out shooting the Bears 13-7 and temporarily tying the game at 1-1 a little past halfway through regulation. The Phantoms power play showed good puck possession and movement and they were rewarded, as Robert Hagg's shot from the point was tipped past Grubauer by Daroll Powe at 11:11 of the middle frame to even the score at 1-1.
On a power play their own moments later, Tomas Kundratek's shot from the face-off circle was blocked and scooped up by Wellman in the slot. Wellman wasted little time, firing a quick shot past Zepp to re-gain the lead for the bears at 2-1. Connor Carrick picked up a secondary assist on the power play goal at the 14:14 mark of the 2nd period.
Despite being out shot 12-4 in the third period, the Phantoms mounted their comeback in the final six minutes of regulation, started by Leier's first pro goal. After that goal tied the game at 2-2, it seemed the Phantoms could do no wrong.
Powe and Petr Straka scored on consecutive shots after Leier's goal to swing the momentum a complete 180 degrees. Zepp stopped everything that came his way in the 3rd period for another thrilling victory in front of the home crowd, announced at 7,881 fans tonight.
GAME SUMMARY
1st Period
13:10: LV - Alt, minor (slashing)
13:10: LV - Alt, minor (roughing)
13:10: HER - Kennedy, minor (slashing)
13:10: HER - Kennedy, minor (roughing)
13:27: HER - Newbury (4) - Wellman
13:51: HER - (PP) Schilling, minor (holding)
17:02: LV - (PP) Delisle, minor (slashing)
2nd Period
0:23: LV - Fyten, minor (cross-checking)
0:23: HER - Herbert, minor (embellishment)
3:05: HER - (PP) Mitchell, minor (roughing)
3:05: HER - Spencer, major (fighting)
3:05: LV - Rosehill, major (fighting)
7:13: HER - Walker, minor (roughing)
7:13: LV - Powe, minor (roughing)
9:49: HER - (PP) Cornet - bench minor (too many men)
11:11: PPG - Powe (1) - Hagg, Manning
13:20: LV - (PP) Fyten, minor (high-sticking)
14:14: HER - PPG - Wellman (4) - Kundratek, Carrick
16:33: HER - (PP) Carrick, minor (roughing)
19:30: LV - (PP) Pettersson, minor (hooking)
3rd Period
5:05: LV - Delisle, major (fighting)
5:05: HER - Mitchell, major (fighting)
14:01: LV - Leier (1) - Alt, Cousins
14:58: LV - Powe (2) - Gordon, Laughton
15:54: LV - Straka (2) - Cousins, Stortini
ROSTER NOTES - Lehigh Valley Phantoms
Rob Zepp ( 29 saves - 31 shots) got his third start in net this season. Rookie goaltender Anthony Stolarz backed him up. Zepp will get the start in net tomorrow night up in Binghamton
With Shayne Gostisbehere recalled to the Philadelphia Flyers, Steven Delisle made his 2014-15 regular season debut tonight on defense for the Phantoms.
Also making his regular season debut tonight was forward Andrew Johnston.
Forward Brett Hextall (upper body) was the lone scratch tonight for the Phantoms. Hextall suffered the injury last Saturday against Adirondack and despite practicing all week with the team, was held out of the lineup tonight.
Lines
Taylor Leier - Scott Laughton - Andrew Gordon
Darroll Powe - Austin Fyten - Brandon Alderson
Petr Straka - Nick Cousins - Zack Stortini
Jay Rosehill - Kevin Goumas - Andrew Johnston
Brandon Manning - Steven Delisle
Robert Hagg - Mark Alt
Oliver Lauridsen - Jesper Pettersson
Rob Zepp - Anthony Stolarz