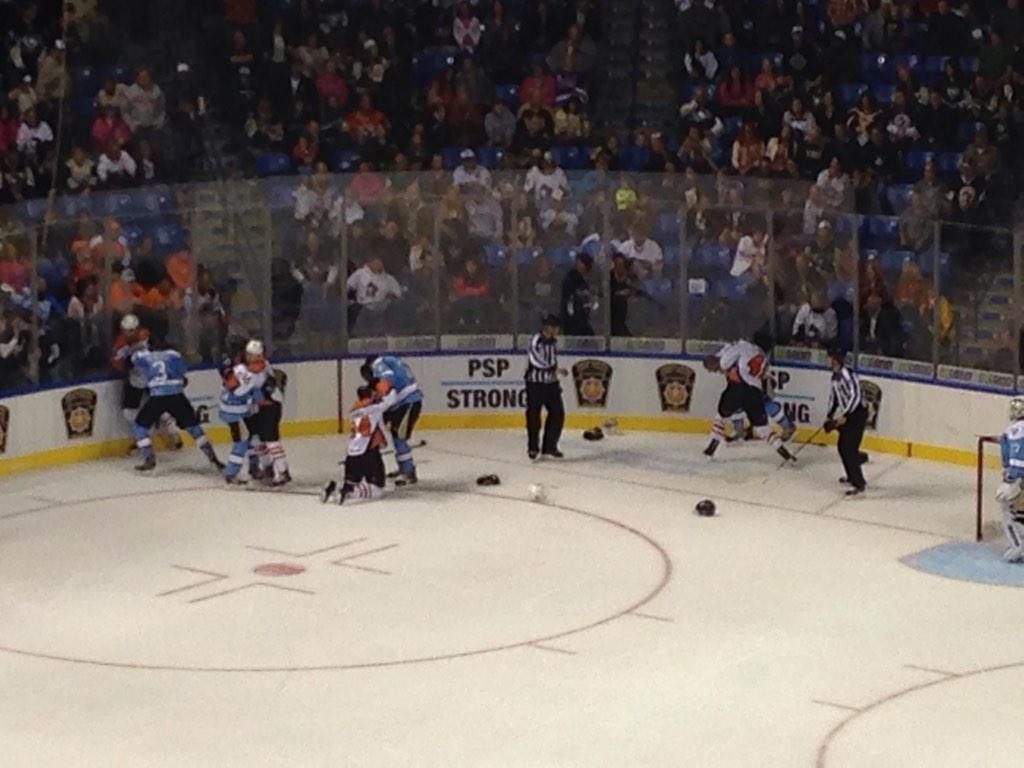 This is what happened the last time these two teams faced each other in Wilkes-Barre.
Perhaps in the initial stages of fully re-kindling the Pittsburgh Penguins and Philadelphia Flyers minor league affiliates' rivalry, the Wilkes-Barre/Scranton Penguins host the Lehigh Valley Phantoms tonight at the Mohegan Sun Arena at 7:05 p.m. ET.
This is the third of 12 scheduled meetings between the two AHL teams from Pennsylvania, roughly 63 miles apart from arena to arena. (Note: The Washington Captials' AHL club is in Hershey, Pa. - a third AHL team in the state).
The Phantoms started their inaugural season as Lehigh Valley with a win in Wilkes-Barre back on October 11th, but saw the Penguins come to the PPL Center a little over two weeks ago and take two points, splitting the season series so far.
If you can't make the game and are looking for up-to-the-minute updates, follow Highland Park Hockey on Twitter (
@H_P_Hockey
) or you can follow along on the website, for those not on Twitter.
I'll be live from Wilkes-Barre with full coverage both on Twitter and online with a post-game recap of tonight's action as well.
Pre-Game Notes
Lehigh Valley Phantoms (5-5-1-0) at Wilkes-Barre/Scranton Penguins (8-5-0-1)
Puck drop - 7:05 p.m. ET
Expected Starting Goaltenders
WBS - Jeff Zatkoff (2-3-0, 2.78 GAA, .863 SV%, 0 SO)
LV - Rob Zepp (5-2-1, 2.69 GAA, .919 SV%, 0 SO)
Roster Notes - Penguins
Jeff Zatkoff gets the start in goal tonight for the Penguins, making his first appearance since a nine-game absence with a lower body injury.
The Pens sent goaltender Eric Hartzell and Nick D'Agostino to Wheeling (ECHL).
Defenseman Barry Goers practiced in full yesterday and head coach John Hynes said he is ready to return to the lineup.
Forwards Anton Zlobin and Nick Drazenovic are both still out, though Hynes didn't rule out the possibility of Drazenovic being ready Sunday.
The Penguins will be without team captain Tom Kostopoulos (personal matter) this weekend. Hynes said it wasn't something long-term.
Expected WBS Lines
Scott Wilson - Andrew Ebbett - Jayson Megna
Tom Kuhnhackl - J-S Dea - Bryan Rust
Conor Sheary - Carter Rowney - Josh Archibald
Bobby Farnham - Adam Payerl - Pierre-Luc Leblond

Brian Dumoulin - Taylor Chorney
Scott Harrington - Philip Samuelsson
Derrick Pouliot - Reid McNeill

Jeff Zatkoff - Matt Murray

Scratches: Alex Boak, Nick Drazenovic (lower body), Anton Zlobin (upper body), Dominik Uher, and Barry Goers.
Roster Notes - Phantoms
Expect to see Rob Zepp in net for the Phantoms tonight. He's been the team's MVP through the first 11 games of their season.
The injuries on defense continue to mount with the unfortunate news that Shayne Gostisbehere tore his ACL and is out indefinitely. Ghostisbehere joins Mark Alt on the Phantoms injury list, which leaves the team with six healthy defensemen.
The Phantoms signed former Worcester Sharks defenseman Adam Comrie to an AHL deal on Tuesday. Comrie is big at 6-4 but looks to have some offensive upside as well as he tallied 19 points (3G-16A) in 56 AHL games with the Sharks last season. Comrie is on the Phantoms' ECHL affiliate in Reading with four points (1G-3A) in four games.
Up front, forward Brett Hextall is nearing a return and could be in the lineup as soon as tonight. Hextall has missed eight games this season with an upper body injury.
Darroll Powe has served his two-game suspension for his actions at the tail end of Wednesday night's game in Worcester.
Expected Phantoms Lines
Taylor Leier - Scott Laughton - Andrew Gordon
Petr Straka - Nick Cousins - Zack Stortini
Darroll Powe - Kevin Goumas - Brandon Alderson
Austin Fyten - Andrew Johnston - Jay Rosehill
Steven Delisle - Brandon Manning
Robert Hagg - Jesper Pettersson
Brett Flemming - Oliver Lauridsen
Rob Zepp - Anthony Stolarz
Scratches: Mark Alt (upper body), Shayne Gostisbehere (torn ACL), Brett Hextall and Derek Mathers