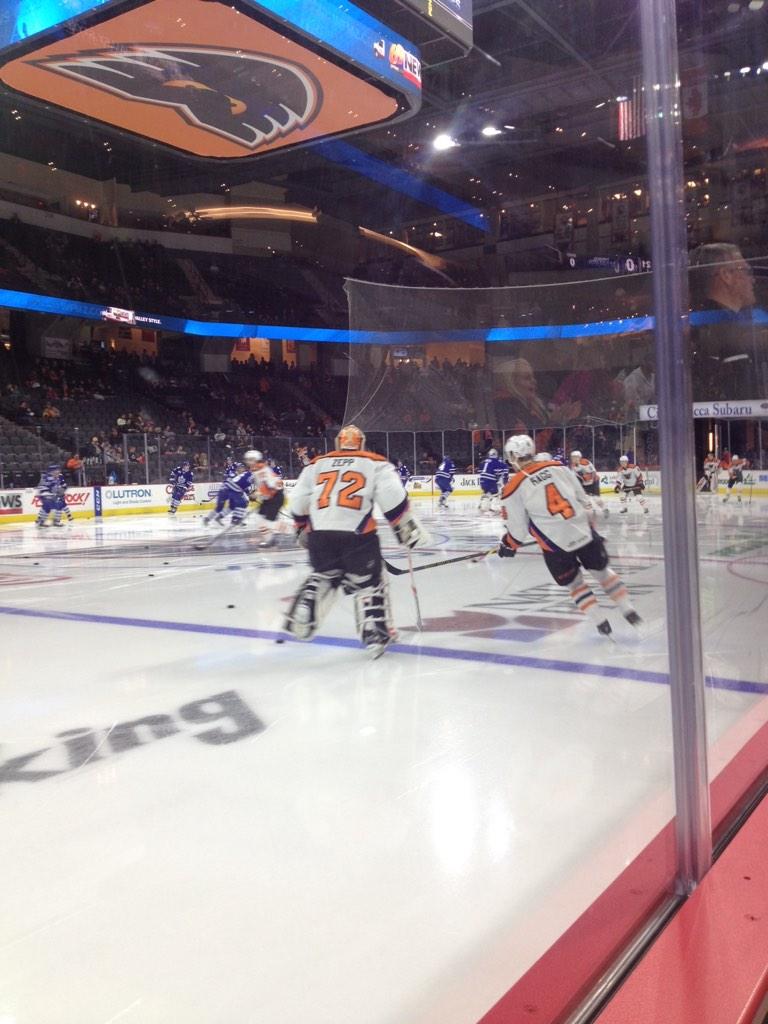 The Lehigh Valley Phantoms (6-6-1-0) gave their home fans at PPL Center another exciting finish, as Brandon Manning tallied a power play goal with 3:58 left to play and the Phantoms killed off a 5-on-3 power play in the waning moments to hold on for the 3-2 win over the Toronto Marlies (5-7-1-0).
The Marlies made the late game 5-on-3 power play a three-man advantage when they pulled goaltender Christopher Gibson, but some big saves from Phantoms netminder Rob Zepp and a big blocked shot in the waning seconds by promising young defenseman Robert Hagg sealed the deal for the Philadelphia Flyers' AHL affiliate.
Scott Laughton was a difference maker again tonight, opening the scoring for the Phantoms in the first period and consistently creating offensive chances throughout the night. Nick Cousins also tallied a goal in the win, while Zepp stopped 28 of 30 shots to pick up his 6th win of the season.
The Phantoms continue their five-game home stand on Wednesday night when rival Hershey comes to town.
The Phantoms seemed to be energized in front of the home fans, with the early jump in their step tonight. Unfortunately, it was the Marlies taking a 1-0 lead after a bad angle shot by Brad Ross banked in off of Troy Bodie and past Zepp.
The Phantoms didn't let a bad bounce keep them from continuing to press the Marlies. Taylor Leier fed Scott Laughton a pass at the near-side face-off circle and Laughton picked a corner on Gibson to tie the game at 1-1 with 10:05 left in the opening period.
The Phantoms weren't done there, either. Just 57 seconds later, Steven Delisle got to a loose puck at his own blue line and carried the puck into the offensive zone with Nick Cousins. Delilse fed Cousins a saucer pass on a 2-on-1 and Cousins wristed one past Gibson to give the Phantoms a 2-1 lead.
Zepp made some stellar saves in the middle frame to keep his team in front, including stopping a Patrick Watling breakaway and blocking a point shot with a mask save. The Marlies out shot the Phantoms 12-9 in the 2nd period, but remained behind by a 2-1 score.
The Marlies didn't pack it in in the third period, tying the game with an early third period man advantage on a nice shot from the slot by Greg McKegg. McKegg's 5th of the season tied the game at 2-2 with 11:35 left in regulation.
After two Marlies' penalties 18 seconds apart, the Phantoms took to the ice with 1:42 of two-man advantage time and Andrew Gordon and Brandon Manning teamed up with 3:58 left to give the Phantoms a 3-2 lead.
The Marlies received a two-man advantage of their own in the final two minutes and even made it a 6-on-3 after they pulled their goaltender, but the Phantoms penalty killers held on for the win thanks to key saves by Zepp and a big-time block in the waning seconds from Hagg.
GAME SUMMARY
1st Period
1:01: TOR - (PP) MacWilliam, minor (high-sticking)
3:11: TOR - Broll, minor (helmet violation)
3:11: TOR - Broll, major (fighting)
3:11: LV - Mathers, minor (helmet violation)
3:11: LV - Mathers, minor (fighting)
5:09: TOR - Bodie (2) - Ross, Carrick
5:20: LV - (PP) Alderson, minor (tripping)
9:55: LV - Laughton (6) - Leier
10:52: LV - Cousins (4) - Delisle
2nd Period
1:42: TOR - (PP) MacWilliam, minor (slashing)
11:43: LV - (PP) Cousins, minor (slashing)
3rd Period
2:57: TOR - (PP) Granberg, minor (slashing)
6:48: LV - (PP) Hagg, minor (interference)
8:25: TOR - PPG McKegg (5) - Brown, Finn
14:57: TOR - (PP) Broll, minor (interference)
15:15: TOR - (PP) Biggs, minor (tripping)
16:02: LV - PPG Manning (3) - Gordon, Laughton
17:30: LV - (PP) Lauridsen, minor (delay of game)
18:27: LV - (PP) Laughton, minor (hooking)
20:00: LV - Rosehill, ten-minute misconduct (unsportsmanlike)
ROSTER NOTES - Phantoms
Rob Zepp (28 saves - 30 shots) got the start in net again tonight for the Phantoms, with rookie Anthony Stolarz backing him up.
There were no lineup changes tonight for the Phantoms. Defenseman Mark Alt (upper body) and Shayne Gostisbehere remain out long term. Forward Brett Hextall is still out with an upper body injury. Andrew Johnston took the warmup, but was a healthy scratch up front.
Forward Kevin Goumas took a stick to the mouth per Phantoms head coach Terry Murray, but his status moving forward is unknown at this point.
Lines:
Taylor Leier - Scott Laughton - Andrew Gordon
Petr Straka - Nick Cousins - Zack Stortini
Jay Rosehill - Daroll Powe - Brandon Alderson
Austin Fyten - Kevin Goumas - Derek Mathers
Brandon Manning - Steven Delisle
Robert Hagg - Jesper Pettersson
Brett Flemming - Oliver Lauridsen
Rob Zepp - Anthony Stolarz
Phantoms Scratches: Mark Alt (upper body), Andrew Johnston (healthy), Shayne Gostisbehere (torn ACL) and Brett Hextall (upper body)