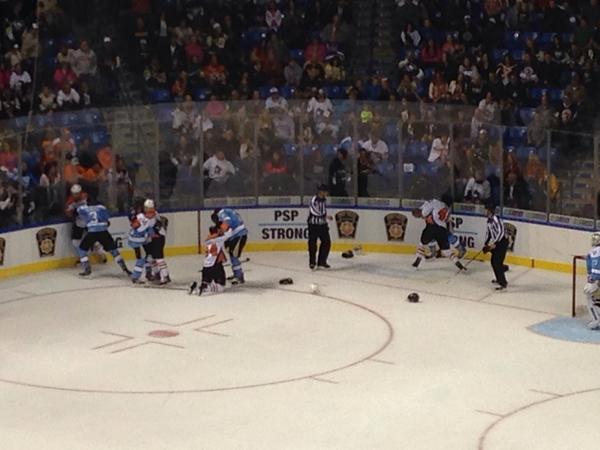 The tone was re-set for the rivalry in the first meeting in Wilkes-Barre on opening night October 11th, 2014. Photo courtesy of @PensFans4Ever.
No Andrew Ebbett. No Jayson Megna. No Scott Wilson. No Bryan Rust. No Brian Dumoulin. No Philip Samuelsson. No Taylor Chorney.
No problem for the Wilkes-Barre/Scranton Penguins tonight against the Lehigh Valley Phantoms, as they roll past their East Division rival in route to a 5-1 win at the Mohegan Sun Arena.
When you have seven guys out of the regular lineup, the remaining guys have to step up. The Penguins had plenty of volunteers to lead the way tonight.
Team captain Tom Kostopoulos led the way with two goals, while Conor Sheary had a game-high three points (one goal, two assists) for the Penguins. Adam Payerl and Carter Rowney each tallied two assists for the Pens in the win as well.
Jeff Zatkoff stopped 21 of 22 shots for his 6th win of the season. After a slow start to the year by Zatkoff, he's 3-1-1 in his last five games with a shutout. Rob Zepp returned to the Phantoms net after missing the last three games with a lower body injury, but was replaced about halfway through regulation by Anthony Stolarz after allowing four goals on 21 shots. At that point, Phantoms head coach Terry Murray was looking to wake his team up.
As a team the Penguins are playing stout defensively too, having allowed only six total goals against in their last six games - a trend that will need to continue in a home-and-home series Bears starting up tomorrow night in Wilkes-Barre.
The Penguins showed no ill-effects of a depleted lineup in the first period, out shooting the Phantoms 14-4 in the first 20 minutes and grabbing a 1-0 lead early in the contest.
Adam Payerl won a puck battle behind the Phantoms net and worked it to Sahir Gill just below the face-off circle. Gill quickly found an open Tom Kuhnhackl in the slot, who fired a quick shot past Zepp to the put the Pens ahead 1-0 just 6:45 into play.
Late in the 1st period, the Penguins extended their lead to 2-0. Scott Harrington took a feed from Carter Rowney at the point and fired a shot that team captain Tom Kostopoulos tipped past Zepp with 1:34 left before the first intermission.
The Penguins didn't let up in the 2nd period, either. They didn't score on a two-man advantage to start the period, but extended their lead to 3-0 about a minute and a half into the middle frame. Jean-Sebastien Dea got a puck down-low to Conor Sheary, who slid one across the crease to Kostopoulos who buried one past Zepp for his second of the night.
It was all Penguins in the first 40 minutes, and Phantoms goaltender Rob Zepp's night was finished after Conor Sheary put the Penguins up 4-0 with assists going to Payerl and Rowney - each with their 2nd assist of the night. Zepp was pulled after allowing four goals on 21 shots in 31:44 of work. Zepp was replaced by rookie Anthony Stolarz.
The Penguins had seven regulars out of their lineup, but out shot the Phantoms by an incredible 23-9 margin through two periods despite rolling with a depleted lineup.
Brett Hextall broke Zatkoff's shutout bid with 6:22 left, but 4-1 would be as close as the Phantoms would get tonight. Derrick Pouliot finished off a nice play on a 4-on-4 with 3:01 left to complete the final score.
GAME SUMMARY
1st Period
2:47: LV - (PP) Rosehill, minor (holding)
6:45: WBS - Kuhnhackl (2) - Gill, Payerl
7:03: LV - (PP) Straka, minor (boarding)
12:16: WBS - (PP) Farnham, minor (tripping)
16:35: WBS - McNeill, major (fighting)
16:35: LV - Fyten, major (fighting)
18:26: WBS - Kostopoulos (3) - Harrington, Rowney
19:06: LV - (PP) Stortini, minor (elbowing)
19:06: LV - Rosehill, ten-minute misconduct
19:28: LV - (PP) Manning, minor (cross-checking)
2nd Period
1:31: WBS - Kostopoulos (4) - Sheary, Dea)
5:10: LV - (PP) Straka, minor (hooking)
11:44: WBS - Sheary (6) - Rowney, Payerl
16:25: WBS - (PP) Leblond, minor (boarding)
3rd Period
13:38: LV - Hextall (1) - Fyten, Straka
14:55: LV - (PP) Rosehill, minor (charging)
15:27: LV - (PP) Lauridsen, major (boarding)
15:27: LV - Lauridsen, game misconduct
15:27: LV - Manning, ten-minute misconduct
15:27: WBS - Kostopoulos, minor (roughing)
16:59: WBS - Pouliot (3) - Sheary, Harrington
18:01: WBS - Kuhnhackl, minor (goaltender interference)
18:36: WBS - (PP) Goers, minor (tripping)
ROSTER NOTES - Penguins
Jeff Zatkoff (21 saves - 22 shots) got the start in net tonight for the Penguins. Matt Murray backed up Zatkoff.
On defense, things were shaken up a bit on a busy last 48 hours the organization. Philip Samuelsson was traded to Arizona today. Brian Dumoulin was called up to Pittsburgh yesterday and Taylor Chorney - who skated in a red no-contact jersey at practice this week - wasn't ready tonight. That allowed Nick D'Agostino to play in just his second AHL game of the season, his first in almost two months (10/12 vs. Manchester).
The AHL Pens also recalled defensemen Alex Boak and Clark Seymour, both of whom took the morning skate in the ECHL with the Wheeling Nailers before immediately hitting the road and making it to Wilkes-Barre for tonight's game. Boak/Seymour actually slotted into the lineup.
Up front the call ups continued, leaving the AHL Pens with just 12 healthy forwards after Scott Wilson and Bryan Rust were called up to Pittsburgh. Wilson was injured in his NHL debut Tuesday night, thus necessitating Rust's promotion this morning after Patric Hornqvist was knocked out of last night's 3-0 loss to Vancouver.
The AHL Pens called up two forwards from Wheeling - Matia Marcantuoni and Sahir Gill - to get to 12 healthy skaters up front. Marcantuoni started the season in the AHL, but also benefited from top minutes at the ECHL last month. Gill made his WBS Penguins debut tonight, playing in just the 2nd AHL game of his career to date.
I'll mention this again a few times until word fully circulates, but forward Anton Zlobin had season-ending shoulder surgery. Nick Drazenovic started skating again in what has become a very slow rehab from a lower body injury he suffered late in October. Drazenovic is listed as "day-to-day/week-to-week" per head coach John Hynes.
Scratches: Taylor Chorney (upper body), Clark Seymour (healthy), Nick Drazenovic (lower body) and Anton Zlobin (season-ending shoulder surgery).
Lines
Conor Sheary - J-S Dea - Josh Archibald
Dominik Uher - Carter Rowney - Tom Kostopoulos
Tom Kuhnhackl - Sahir Gill - Adam Payerl
Bobby Farnham - Matia Marcantuoni - Pierre-Luc Leblond
Scott Harrington - Barry Goers
Reid McNeill - Derrick Pouliot
Nick D'Agostino - Alex Boak
Jeff Zatkoff - Matt Murray
ROSTER NOTES - Phantoms
Rob Zepp (17 saves - 21 shots) returned from a lower body injury that caused him to miss all three games last week. Unfortunately for Zepp and the Phantoms, he was pulled after allowing four goals in the first 31:44 of play. Rookie goaltender Anthony Stolarz backed up Zepp in net, replacing Zepp with 8:16 left in the 2nd period. Stolarz stopped 11 of the 12 shots he faced in the final 28:16.
With Zepp back from injury, Martin Ouellette was re-assigned back to ECHL Reading earlier this week.
No changes on defense as Jespser Pettersson was the 7th defenseman and a healthy scratch for the third straight game. Shayne Ghostisbehere remains out indefinitely after having surgery to repair a torn ACL.
Up front, Brett Hextall served his one-game suspension and returned to the Phantoms lineup. Derek Mathers returned to the 13th forward role and was a healthy scratch tonight.
Scratches: Shayne Ghostisbehere (ACL injury) and Derek Mathers (healthy)
Lines
Taylor Leier - Blair Jones - Zack Stortini
Jason Akeson - Nick Cousins - Andrew Gordon
Petr Straka - Darroll Powe - Brett Hextall
Jay Rosehill - Kevin Goumas - Austin Fyten
Brandon Manning - Mark Alt
Robert Hagg - Steven Delisle
Oliver Lauridsen - Brett Flemming
Rob Zepp - Anthony Stolarz