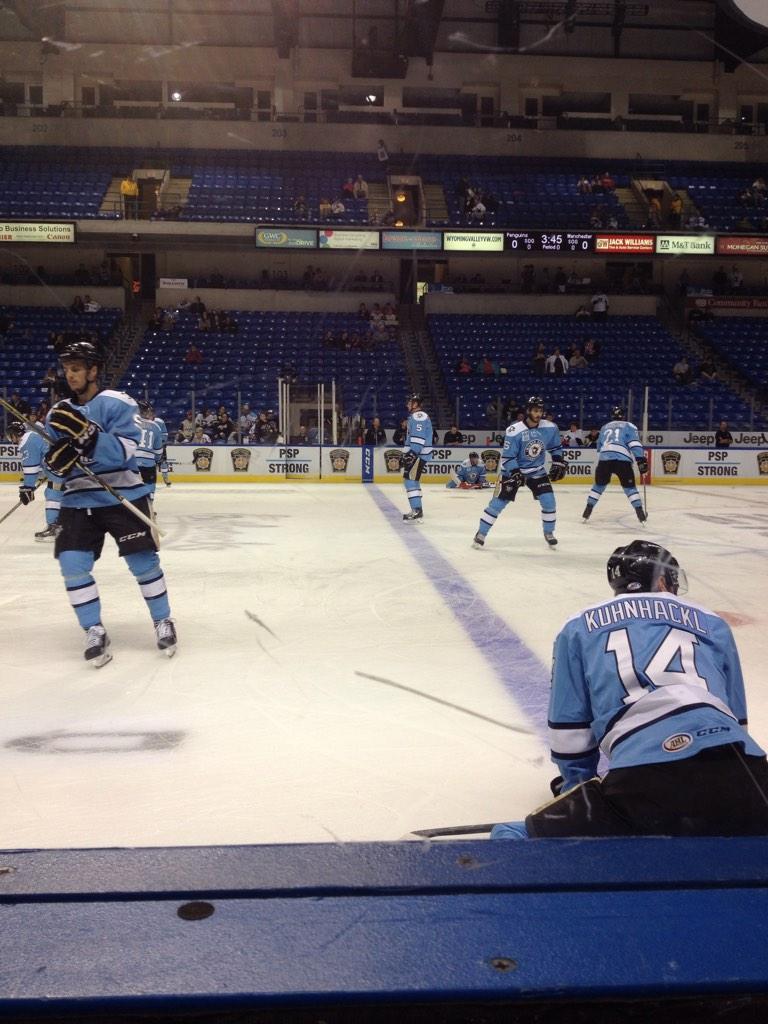 The Penguins start the season 0-2 after dropping both games at home on opening weekend.
The Wilkes-Barre/Scranton Penguins finish their opening weekend 0-2 after a 4-1 loss to Manchester this evening. It's certainly not time to hit the panic button just yet, as there are still 74 games to be played this season, but it's perfectly reasonable to be concerned.
After allowing five goals on 20 shots Saturday night in the Pens' season opener, the team went back to Jeff Zatkoff this afternoon against his former team. He didn't fare well today, allowing four goals on 14 shots and looking confused on some shots from the point - two to be exact - that seemed routine yet eluded the netminder.
The Penguins power play went 0-for-5 tonight and had a five-minute man advantage go by the wayside with little pressure on the Monarchs penalty killers midway through the third period. Still, too early to hit the panic button.
The Penguins (0-2) have a week of practice to straighten things out, and perhaps a road trip to Newfoundland next weekend for two games against the St. John's IceCaps is just what the doctor ordered to right the ship before the Pens dig themselves in too deep a hole early in the season.
Things didn't start off the way the Penguins would have liked in this one. A seemingly harmless shot from the point by Jeff Schultz eluded Jeff Zatkoff just 27 seconds into the contest. Brian O'Neill and Sean Backman got the assists on Schultz's goal.
Less than a minute later, Tom Kostopoulos took a tripping penalty that put the Pens on the PK. Luckily for the home team, they were able to kill it off and avoid a complete disaster off the hop.
After unsuccessful back-to-back power play chances by the Penguins, Manchester extended their lead to 2-0 on a nice pass from Jordan Weal to a streaking O'Neill, who used his speed to break in alone from the face-off circles and fire a quick shot past Zatkoff. Defenseman Kevin Raine also added an assist on the goal 12:35 into the opening frame.
After an uneventful first eight minutes of the middle frame, the Penguins got to within one goal on a delayed penalty call after Jean-Sebastien Dea was hooked coming into the offensive zone. The Pens were able to cycle the puck around the perimeter, and Dea's point shot through traffic beat Jean-Francois Berube to make it a 2-1 game with 11:23 left in the period. Dominik Uher and Philip Samuelsson got assists on Dea's first pro goal, but credit Adam Payerl with a great screen in front of the net to block Berube's vision of the point shot.
The Pens seemed to have momentum on their side, buzzing on the very next shift and nearly tying it on a 2-on-1 as Bryan Rust - who in my opinion has been a pleasant surprise for the Pens through two games - just missed the top corner.
The Monarchs came right back and Weal set up Monarchs' captain Vincent LoVerde in the slot, who then deked his way to a backhand goal on Zatkoff to re-establish the two goal lead halfway through the period. Ryan Horvat picked up his first pro point with an assist on the play.
Just about two minutes later, it was another shot from the point that eluded Zatkoff to make it a 4-1 Manchester lead at 12:33. Kevin Raine tallied his first pro goal with Nic Dowd and Scott Sabourin added assists.
Still, the Pens had plenty of chances in the third period to get back into the game. They drew an early third period power play as Marcantuoni's speed proved too much for Sabourin. The Penguins failed to do much of anything with that man advantage and after a five minute major for boarding on Manchester's Raine were able to muster just a shot or two on that power play midway through the final frame.
Adam Payerl was the victim of Raine's boarding major and although he left the ice and headed to the locker room, came back out and finished the game.
Not a ton of positives from this weekend's games but a pleasant surprise has been rookie forward Bryan Rust, who scored a goal in each of the Pens' preseason games and tallied his first pro goal in last night's season opener. Even today, Rust was creating offense alongside line mates Jayson Megna and Anton Zlobin on what was the team's top line this afternoon. Dominik Uher stood out this weekend as well, as he has now tallied an assist on all three of the Penguins' goals so far this season.
I'll be switching back to coverage of the Lehigh Valley Phantoms on Friday night as they host the Adirondack Flames in their home opener. I'll have Phantoms in-game updates on Twitter
@TonyAndrock_TCG
all season long. I'll still have some updates of the upcoming Penguins road trip to St. John's this weekend over at
@H_P_Hockey
.
GAME SUMMARY
1st Period
0:27: MCH - Schultz (1) - O'Neill, Backman
1:15: WBS - (PP) Kostopoulos, minor (tripping)
4:25: MCH - (PP) Raine, minor (cross-checking)
8:06: MCH - (PP) Mersch, minor (interference)
12:35: MCH - O'Neill (1) - Weal, Raine
16:44: MCH - (PP) Schultz, minor (tripping)
2nd Period
8:37: WBS - Dea (1) - Uher, Samuelsson
10:18: MCH - LoVerde (1) - Weal, Horvat
12:33: MCH - Raine (1) - Dowd, Sabourin
15:00: WBS - (PP) McNeill, minor (hooking)
3rd Period
2:26: MCH - (PP) Sabourin, minor (tripping)
8:41: MCH - (PP) Raine, major (boarding)
8:41: MCH - Raine, major (fighting)
8:41: WBS - Uher, major (fighting)
16:51: WBS - (PP) Goers, minor (cross-checking)
ROSTER NOTES
Jeff Zatkoff (10 saves - 14 shots) got the start in goal against his former team, with rookie Matt Murray backing him up.
Lineup changes for the Penguins included Tom Kuhnhackl, Adam Payerl and Nick D'Agostino in and Nick Drazenovic, Scott Wilson and Harrison Ruopp out.
Josh Archibald will miss a few weeks with a shoulder injury sustained in Friday's practice. At last night's home opener, he was seen with his left arm in a sling upon being announced as part of opening night festivities.
Reid McNeill didn't come out for the third period and there was no update on his condition from head coach John Hynes after the game.
Scratches for the Penguins today: Alex Boak, Harrison Ruopp, Josh Archibald (shoulder - out for a few weeks), Nick Drazenovic and Scott Wilson.
Lines
Zlobin-Megna-Rust
Kuhnhackl-Sheary-Kostopoulos
Uher-Dea-Payerl
Leblond-Marcantuoni-Farnham
Dumoulin-Samuelsson
Chorney-McNeill
D'Agostino-Goers
Zatkoff-Murray